Learn to speak effectively in different situations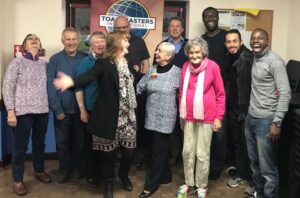 Have you been asked to speak to an audience –
anything from a wedding speech to a business presentation?
Speak Easy At Martlesham is a friendly, supportive and encouraging public speaking club, near Ipswich, Suffolk. We help members practise and enjoy speaking.

You'll get the added benefit of constructive and experienced evaluation.

You can also develop your leadership skills.
Be our guest for a couple of meetings – find out what it's all about and if it's for you. It's as easy as 1-2-3 …
1. Check when our next meeting is on the club facebook page: facebook.com/SpeakEasyMartlesham
2. Check out the location and details on the When & Where page.
3. Visit us! You'll be very welcome.
Want to find out a bit more first? See About Meetings.
You can also phone or email us. See the Contact Us page.